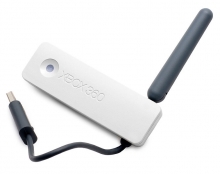 Two official Wi-Fi adapters are available for the original Xbox 360 design, both of which connect through a USB port.
Using an official Wi-Fi adapter or third-party wireless bridge, the console can also automatically detect and link up with other Xbox 360 consoles that are within range and form an ad hoc network.
In revised "slim" models of the Xbox 360, 802.11n connectivity is integrated into the console. However, the integrated adapter is only able to connect to 2.4 GHz networks, so a first-party adapter or a third party bridge is still required to connect to 5 GHz networks.