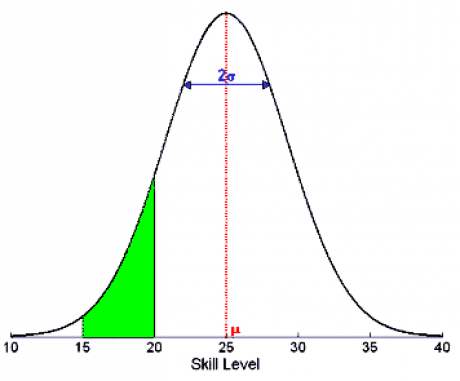 TrueSkill is a ranking and matchmaking system which was developed at Microsoft Research Cambridge (United Kingdom). The TrueSkill ranking system is now used in over 150 titles for the Xbox 360 and Games for Windows Live.
TrueSkill uses a mathematical model of uncertainty to address weaknesses in existing ranking systems such as Elo. For example, a new player joining million-player leagues can be ranked correctly in fewer than 20 games. It can predict the probability of each game outcome, which enhances competitive matchmaking, making it possible to assemble skill-balanced teams from a group of players with different abilities.
When matchmaking, the system attempts to match individuals based on their estimated skill level. If two individuals are competing head-to-head and have the same estimated skill level with low estimate uncertainty, they should each have roughly a 50% chance of winning a match. In this way, the system attempts to make every match as competitive as possible.