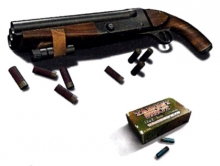 Resident Evil 5's strongest Shotgun returns, but lacks the power of its predecessor.
Ineffective at long ranges, at close range it is deadly due to its power and ability to shoot as fast as you can pull the trigger.
The three shot limit before reloading and the unique ammo makes it more of a hassle than a benefit.
Ammo Type
10-Gauge Shells
Critical Chance
N/A
Alternate Fire Options
None
Reload Speed
C
Clip Size
3
Firing Speed
S
Power
Far - 120 x 7
Close - 170 x 7