South Park: The Stick of Truth is a role-playing game. The game takes primarily on a 2D plane, although there will be places where the player can move into the background or foreground, as there will be various paths.
Character Customization
During the game the player will take on the role of a fully customizable character known only as the 'New Kid'. Staying true to traditional RPG games, your character will be one of five classes: Fighter, Mage, Thief, Cleric, or Jew. The player will be able to completely customize the appearance of their character, similarly to South Park's online character generator.
Combat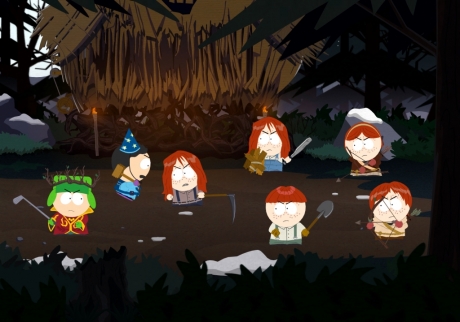 Combat will feature a turn-based system, similar to that of the Final Fantasy series. Over the course of the game, the player will build up their party by completing quests for people. In combat, the player will take control of all members of the party, who each have a turn to attack the enemies directly, use a special attack, or use an item. The player also has the ability to summon other characters, who will typically perform a special attack.
Each character in the party has a HP and PP meter. HP is depleted when attacked, and PP is depleted when special abilities are used. Special abilities are often extremely powerful attacks, that may cause the enemy to bleed, damaging them over time. Items can be used on the player's turn to heal or grant the party some sort of stats effect.
Direct attacks with the player's main, in addition to some special attacks, will require proper timing in order to achieve more powerful strikes, similar to Paper Mario. Timing is also used to block incoming attacks. When enemies are defeated, the player can find new items on their bodies.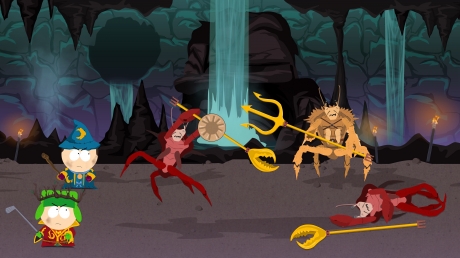 Weapons and equipment can be upgraded and augmented, once again similar to traditional RPG games, such as adding fire, ice or poison to their attacks. Equipment will look like it was created by children, instead of the typical swords found in RPGs. This is to keep the appeal of South Park, as well as keep in line with the overall feel of the game's story.
Outside of combat sections, the player can attack using various magic and items, such as Cup-a-Spell or Dodgeballs. These can be aimed with the left analog stick and fired with the right analog stick. The spells can cause heavy damage to enemies or set traps for them, avoiding combat altogether. Physical items can similarly disable enemies.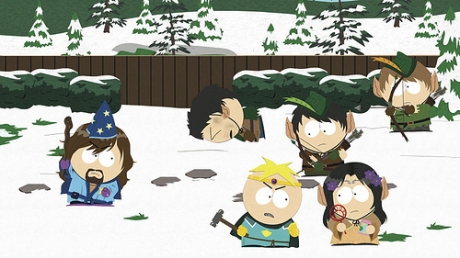 Smart Phone
A smart phone device will be used as the games menu. From the smart phone the player can see maps, quests, party, inventory, collectibles, and abilities. The collectibles are scattered throughout the game, such as Chinpokomon dolls and dirty magazines. The player can also use the smart phone to see how accepted they are by the games various factions.