The Pokemon games typically revolve around a central character, a Pokemon Trainer, who chooses a starting Pokemon and goes on a journey to become the Champion of Pokemon. To achieve this goal, the player will travel the region catching a variety of Pokemon, filling in their Pokedex, battling other trainers, and collecting gym badges.
New Starting Pokémon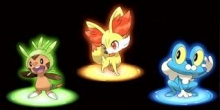 When creating a Pokemon trainer, the most important part is the starting Pokemon that you choose. There are a total of three new starter Pokemon:
Fennekin - fire-type
Chespin - grass-type
Froakie - water-type
Like in previous entries, players will only be able to choose one of these Pokemon at the start of the game, and they will have to trade to get the others.
New Pokémon Types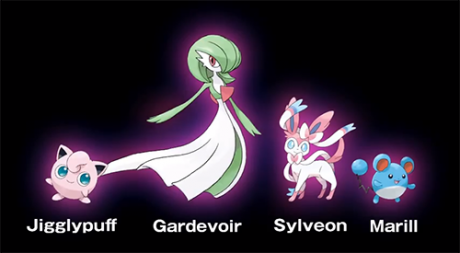 Pokemon X and Y features all new Pokemon type to the series, known as fairy-type.
Fairy-type Pokemon are going to be effective against dragon-type, fighting-type, and dark-type Pokemon, while they are weak to poison-type and steel-type Pokemon. Some of the new fairy-type Pokemon include:
Sylveon
Eevee's (newest evolution)
Xerneas (new legendary Pokemon)
Other Pokemon from older entries have been updated to become fairy-type include:
Jigglypuff
Marill
Gardevoir
Capturing Pokémon
Capturing Pokemon will be similar to other entries in the series. Players can capture Pokemon they encounter in tall grass. The method for capturing Pokemon involving reducing a wild Pokemon's health and using a Poke Ball to capture it.
Fighting with your Pokémon
The battle system will work similar to the old Pokemon games. Players can encounter Pokemon in tall grass or fight trainers. When in battle, players choose a move for their Pokemon to use in the hopes of defeating the opposing Pokemon. The biggest change is the revamped graphics to support the new 3D graphics.
As with the previous Pokemon games, certain Pokemon types will be more effective against others. For example, a fire-type Pokemon will be "super-effective" against a grass-type Pokemon, while a fire-type Pokemon will not be very effective against rock-type Pokmeon.
New Battle Types
Pokemon X/Y introduces two new forms of battles:
Sky Battles: which can only be done with flying or levitating Pokemon
Horde Encounters: where a player will encounter a group of up to 5 wild Pokemon
Training your Pokémon
Similar to previous games, the players focus revolve around catching Pokemon, training them, and using them to fight Pokemon battles. In order to make them more powerful, and therefore take on more difficult battles, players will need to train their Pokemon up.
Gyms
As in the other games, X/Y will feature gyms, where players can collect badges for winning against strong trainers. A Pokemon Gym usually features several trainers inside that a player must defeat before reaching the Gym Leader. Then, the gym Leader must be defeated in order to obtain the Gym badge.
Gym badges allow trainers to control Pokemon up to a higher level, and the Gym Leader will also usually give the trainer a TM (Technical Machine) that will teach a Pokemon a new move.
Pokémon-Amie
This new feature allows players to increase their bond with their Pokemon by petting, feeding, and playing with them by using various 3DS features, including the touch screen and camera. The happier a Pokemon is, the better it will perform in battle.
New Multiplayer
Starting with X/Y, all Pokemon games will feature an online component with the Player Search System, Holo Caster, Battle Spot, Wonder Trade, O Powers, Shout Outs, Photo Spots, and Global Trade Station to find other players all over the world to interact with. With these features, players can battle, trade, share pictures, send messages online.
Player Search System - This new system will allow players to find other Pokemon players either locally or around the world using an Internet connection. From the list of generated players, people can choose to trade or battle. Interacting with the same person more than once can lead to them becoming an "acquaintance" or "friend". Unknown players will show up as "passerby". Your favorite players can be marked as "Favorites".
Holo Caster - The Holo Caster allows players to get messages from other players and NPCs in the game. You will also get Pokemon news using the Holo Caster.
Battle Spot - This feature allows players to engage in battles with other players around the world. There are two forms of battles: Free Battles for casual battles and Rating Battles, which will rank the player against other battlers.
Wonder Trade - Wonder Trade is a new trading system that allows players to pick a Pokemon they want to trade and have it randomly traded for another Pokemon.
O Powers - O Powers give a player a special random skill boost, such as increased attack power or extra experience. You can also offer O Powers to other players or use it on your friends using the PSS system.
Shout-Outs - Shout-Outs are a way for players to post a message that will be seen nearby players or players connected to the Internet. Players can ask for help or brag about their latest achievement.
Photo Spots - Photo Spots allow players to take pictures in the game. The in-game camera will have a variety of features, such as shutter speed, brightness, and more. Players can then share their photos using the PSS.
Global Trade System - This system allows players to trade Pokemon. Unlike other Pokemon games, X and Y will allow gamers to trade Pokemon they have not already discovered.