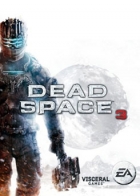 Dead Space 3 is the latest chapter in the Dead Space survival horror series and a direct sequel to Dead Space 2. It was released on February 5, 2013 for PlayStation 3, Xbox 360, and Microsoft Windows. The game brings several changes to the formula such as co-op gameplay and a crafting system that replaces the weapon collecting of previous games.
The story picks up some time after Isaac Clarke and Ellie Langford escape the Sprawl, the luncatic asylum where Dead Space 2 takes place. While on the run from EathGov, they come across an EarthGov soldier by the name of Sgt. John Carver and discover the frozen planet of Tau Volantis, an icy wasteland where the remains of another planet cracking ship and the source of the Markers are found.
Dead Space 3 Brainwaves
19th June, 1 replies

According to EA Studios executive vice president Patrick Söderlund, the Dead Space series will return....

11th September, 1 replies

I'll start by warning you that this is less a review, more a list of complaints. If you want some kind...
Share Dead Space 3 with others