Madden NFL 25 Standard Edition ($59,99):
The standard version of Madden NFL 25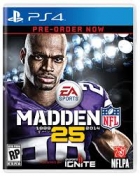 Madden NFL 25 Anniversary Edition ($99,99):
KEY FEATURES
· Madden NFL 25 - Unlock the power, precision, and creativity of the NFL ball-carrier. Whether you're a slashing running-back, dual-threat QB, or ball-hawking safety, unleash 30 new moves and string together devastating combos with the all-new precision modifier.
· Madden Ultimate Team Subscription - Starting Week 1 of the NFL season and continuing through Week 17, receive one pack a week for use in Madden Ultimate Team. The Madden NFL 25 Anniversary Edition packs feature 2 rare players, 4 silver players and 4 bronze players.
· Exclusive Offers From DirecTV –
1. For fans who are not currently DirecTV subscribers but are able to receive DirecTV service, they will receive a promo code entitling them to $10 off per month for their first year of service and one year of NFL Sunday Ticket Max at no additional charge.
2. For fans who are already DirecTV and NFL Sunday Ticket Max subscribers, you can accessNFL Sunday Ticket on your computer, tablet and mobile devices using your current DirecTV username and password.
3. For fans unable to receive DirecTV service, each Madden NFL 25 Anniversary Edition will include a unique code to access the 2013 regular season (17 weeks) trial of NFL Sunday Ticketon computers, tablets, and mobile devices- including access to the award-winning Red Zone Channel.