With MUT Seasons, you will have the opportunity to play against players from all around the world. You will sqaure off with another RandoMUT player. The game difficulty is locked at All Pro with three minimum quaters, so make sure you're team is ready. You will have the option to play 1 game per night for 10 nights or 1 game per week every week. To Ensure that the matches are equally fair, the Ranking System will check on both teams. All the progress you've made is saved in the Rank System.
Survive and Advance
Each MUT season is made of 10 games and a 4 round playoff series. There are 8 unique levels of play (1 being the easiest and 8 being the hardest). To advance to a harder level, you must reach a "Playoff Berth" When you reach a Playoff Berth, you will recieve a couple prizes and go on to compete with harder teams. Once you've reached level two and further, you will have a minimum f games to win. If you don't win those amount of games, you will be brought back to the previous level. However, you can always work your way back up.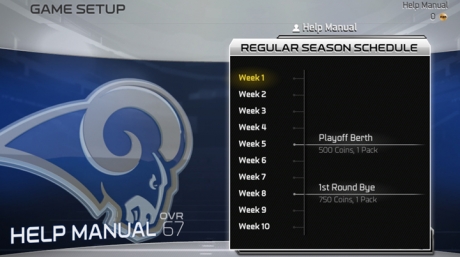 Earn Rewards
Like mentionned before, you will gets rewards at each level stage you pass. But you can get rewards from other places, too. You can earn rewards for outstanding performance, earning a playoff berth, or even winning a bye. You will recieve the ultimate reward for winning the Super Bowl. The leaderboards will offer you a breakdown of your team and show you where you stand amung your MUT peers.