Don't Starve is a unique sandbox-styled adventure game. The overall goal is to simply survive for as long as possible. To do this you must avoid a number of different deadly challenges, including fending off starvation, avoiding insanity, and surviving encounters with deadly mobs.
The game is played from an isometric camera angle which the player can rotate and zoom in and out of.
Surviving
A large part of the gameplay consists of scavanging food and collecting items which you then craft into tools and use to build structures that will help you to survive as the game becomes progressively more challenging.
The crafting system is a core part of the game, and there are numerous tools and items to find, details of which you'll find on other pages in this wiki.
Cooking

Cooking the food you manage to find in the world will add a hunger bonus to the food, as well as other benefits. There are three ways to cook food in the game: via the campfire/firepit, over the drying rack or by using the crock pot.
The crock pot is perhaps the most useful of these, as it allows you to essentially 'craft' certain foods into other, better food types by making use of certain recipes.
Playable Characters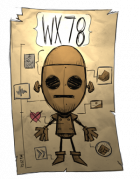 The game's main playable character is Wilson. However, other characters can be unlocked (either through death or by acquiring enough experience). There are eight playable characters in total and each character has his or her own special ability/perk, as well as unique animations and voice acting.
For example, WX-78's perk is the ability to eat stale or spoiled food without penalty (because he is a robot). Meanwhile Wendy's perk is her sister, Abigail the ghost, who will sometimes appear at night and protect Wendy from dangerous mobs.
Terrains
Don't Stare includes a number of different terrain types or biomes. These are randomly generated at the start of the game and vary in size and shape and also contain certain types of resources and creatures common to that area. These terrains then connect together to create tthe in-game world of Don't Starve.
The following different terrain types are found in the game:

Forest
Grasslands
Savanna
Marsh
Rockyland
Mosaic
Chess
Ocean