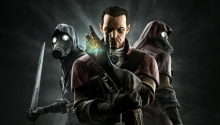 A story-driven DLC titled "The Knife of Dunwall" will focus on Daud, the legendary assassin responsible for the assassination of the Emperess Jessamine Kaldwin. After the assassination that changed everything, Daud sets out in search of redemption. The Outsider knows the key to his redemption. The key is Delilah but who or what Delilah is remains a mystery.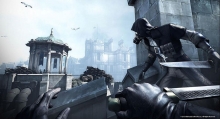 The DLC will see Daud accompanied by his team of assassins called "The Whalers" as he searches for Delilah. He will make use of his own set of powers, weapons and gadgets during his search. The DLC will include new enemies to battle and will lead into the next story driven DLC, The Brigmore Witches.
Daud will make use of several unique weapons and skills to navigate new sections of Dunwall. You will find use of a Void Gaze which allows you to search for certain objects similar to the heart in the main game. He will also come with his own variation of the Blink ability. Daud will also have access to Chokedust, Stun Mines, and a Wristbow which remains concealed and can shoot sleep darts.
It is set to be released on April 16, 2013 for $10 or equivelant.