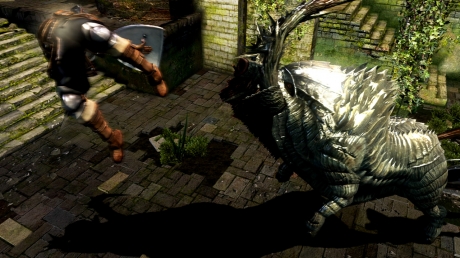 Armored Tusk
Fully Armored Tusk
HP
Souls
Location
HP
Souls
Location
307
750
Undead Parish
640
1000
The Painted World
Drops:
Fang Boar Helm
Drops:
Fang Boar Helm
Strategy
The Armored Tusk has a thick metal armor that makes it highly resistant to both physical and magical attacks.
When at a distance, these enemies will Charge the player and thrust its horn at the player. This attack can not be blocked and needs to be avoided by rolling to the side or backward. Luckily, when it charges forward it leaves itself open to attack from behind to a backstab. Doing this does a large amount of damage, but leave players open to a Boar Kick by its hind legs.
The first time you encounter this enemy, it is best to not take it head on and instead head right to reach the walkway with the archers above this enemy. Spellcasters can safely blast it from above, but Melee characters will need to drop down and attack it up close.
The Fully Armored Tusks are similar in fighting style, except that they are armored all over and can not be backstabbed.