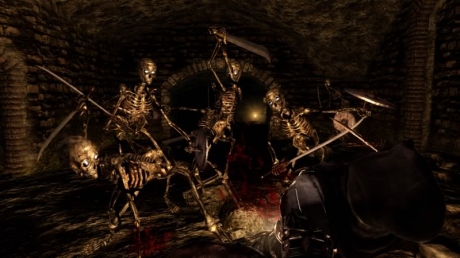 Skeleton Swordsmen (Sword & Shield)
Skeleton Swordsmen (Greatsword)
HP
Souls
Location
HP
Souls
Location
184
50
Firelink Shrine
156
50
Firelink Shrine
195
100
The Catacombs
166
100
The Catacombs
Drops:
Scimitar
Drops:
Falchion
Red and White Round Shield
Red and White Round Shield
Skeleton Swordsman (Archer)
HP
Souls
Location
154
100
The Catacombs
Drops:
Short Bow
Strategy
Sword & Shield
When fighting these, a blunt weapon such as a Hammer, Great Hammer, or Fist do more damage than thrust or slash weapons. These enemies are fast, highly evasive, and have a high amount of health. Their attacks can often cause Bleeding, so it is best to keep your shield up when possible. Their quick double swing is not only faster than your own strike, but they often jump back to avoid your counter attack, making them quite annoying. They can also parry your attacks.
The best way to deal with these is to parry their slow vertical and horizontal swings and get behind them for a backstab.
Greatsword
These enemies are similar to the sword and shield version, but they have slower attacks. Additionally, they can roll to cover ground between themselves and the player, but this is easily blocked and countered with a backstab.
Archer
Like most archers, these tend to hide and shoot you from a distance. Once the ground is covered, they pose little threat.