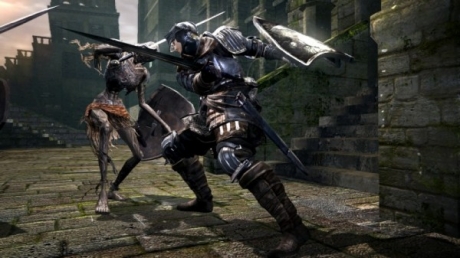 Undead Soldier (Sword)
Undead Soldier (Crossbow)
HP
Souls
Location
HP
Souls
Location
102
50
Undead Asylum
85
80
Undead Burg
85
80
Firelink Shrine
102
80
Undead Parish
85
80
Undead Burg
Drops:
Light Crossbow
102
80
Undead Parish
Hollow Soldier Helm
144
150
Asylum (Revisited)
Hollow Soldier Armor
Drops:
Longsword
Hollow Soldier Waistcloth
Hollow Soldier Shield
Titanite Shard
Undead Soldier (Spear)
HP
Souls
Location
85
100
Undead Burg
85
100
Undead Parish
144
150
Asylum (Revisited)
Drops:
Spear
Longsword (Asylum)
Hollow Soldier Shield
Hollow Soldier's Helm
Hollow Soldier's Armor
Hollow Soldier's Waistcloth
Titanite Shard
Strategy
Sword
This is the first enemy that the player will encounter with a shield. Because you can waste all your stamina on attacking their shield, with little result, it is best to wait for the enemy to initiate and attack before it finishes its own attack. When advancing on an Undead Soldier, make sure to keep your shield up to avoid it's Running Stab attack. While spellcasters will likely take these out at a distance, beware of the Running Stab.
Crossbow
While these do not pose much of a threat up close, they have a habit of hiding and hitting you from great a distance. Make an effort to approach them with your guard up and dispatch of them at close range.
Spear
The spear version of this enemy attacks from a distance safely behind a shield. This makes the enemy hard to attack from the front, meaning backstabs are the way to defeat these quickly. Take your time in defeating these, leaving them for last, and don't attack unless they have their guard down.