The followers of the Gravelord Servant covenant are servants of Gravelord Nito, the First of the Dead. They serve their master by spreading disaster to their neighboring worlds through the use of Eyes of Death.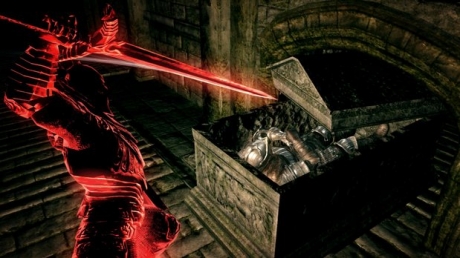 Joining
Talk to Gravelord Nito by having at least one Eye of Death and laying in the open coffin in The Catacombs, near the Prowling Demon. Players receive the Gravelord Sword and Gravelord Sword Dance for joining and can now use Eyes of Death to infect other players worlds.
Covenant Effects
Players who join the Gravelord Servants have the ability to infect up to three online players world with Gravelord Black Phantom via Eyes of Death. Additionally, a Gravelord soul sign appears in the affected worlds, allowing the infected to enter the Gravelord's world to defeat them and free themselves from infection. On the flip side, infected players defeated by the Gravelord drop Eyes of Death.
Infected players remain infected until one of the following occurs:
The Gravelord Servant is defeated
The Gravelord Servant loads in any way (Quits, Homeward Bone, Warps)
The infected player plays offline for 10 minutes without dying, resting at a bonfire, or quitting. A notice that "Disasters are gone…" should appear.
Ranks
| Rank | Eyes | Reward |
| --- | --- | --- |
| +0 | 0 | Gravelord Sword and Gravelord Sword Dance |
| +1 | 10 | Gravelord Greatsword Dance and 10% damage increase to Gravelord miracles |
| +2 | 30 | 20% damage increase to Gravelord miracles |
| +3 | 80 | 30% damage increase to Gravelord miracles |
Betrayal Penalties
Betraying or leaving this covenant results in both miracles having a -10% damage penalty, resulting in 90% damage, and halves the amount of previously offered Eyes of Death.