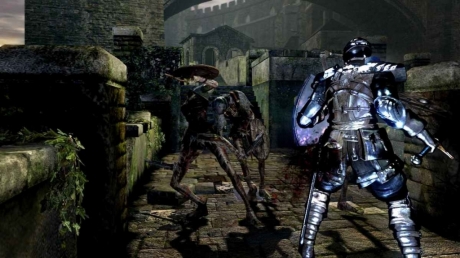 Armored Zombie (Sword)
Armored Zombie (Firebomb)
HP
Souls
Location
HP
Souls
Location
80
60
Firelink Shrine
80
60
Firelink Shrine
80
60
Undead Burg
80
60
Undead Burg
Drops:
Shortsword
Drops:
Firebomb
Hollow Soldier Shield
Hollow Warrior's Helm
Hollow Warrior's Helm
Hollow Warrior's Armor
Hollow Warrior's Armor
Hollow Warrior's Waistcloth
Hollow Warrior's Waistcloth
Armored Zombie (Axe)
HP
Souls
Location
80
60
Firelink Shrine
80
60
Undead Burg
Drops:
Battle Axe
Hollow Warrior's Helm
Hollow Warrior's Armor
Hollow Warrior's Waistcloth
Strategy
Sword
The sword wielding Armored Zombies will often rush the player and perform either a single or barrage of attacks. Most of these can be blocked with a standard shield, but for mage classes it is often better to avoid, as they may lose some health.
The easiest way to defeat these is to either parry, backstab, or wait for them to be stunned from attacking your shield and return with your own assault. On their own, they pose little threat, but in groups they can pose a problem.
Axe
Without a shield a player can go on the offensive against these enemies. Their attacks are slow and easy to avoid, but they often use a jumping slash to close the gap between them and the player. Wait for them to attack and then return while they slowly recover.
Firebomb
Firebombs are dangerous even when blocked, as they still do damage to health. It is best to sidestep the bombs as they are thrown and rush in for an attack before they throw another. If these appear in a group, they should be your first priority, as being hit in the back with a firebomb can cost you the battle.