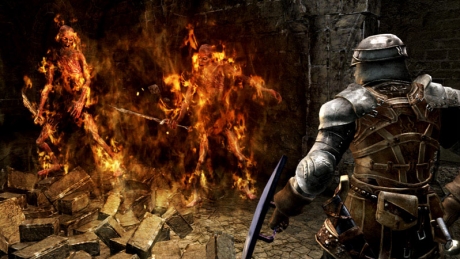 Zombie (Docile)
Zombie (Sword)
HP
Souls
Location
HP
Souls
Drops
44
20
Undead Asylum
69
20
Undead Asylum
53
20
Undead Parish
53
20
Undead Burg
63
20
New Londo Ruins
63
20
Undead Parish
74
50
The Depths
90
100
Asylum (Revisited)
132
300
The Painted World
Drops:
-
Drops:
Broken Straight Sword
Zombie (Archer)
Zombie (Torch)
HP
Souls
Location
HP
Souls
Location
69
20
Undead Asylum
53
20
Undead Burg
53
20
Undead Burg
74
50
The Depths
90
100
Asylum (Revisted)
90
100
Asylum (Revisited)
132
300
The Painted World
132
300
The Painted World
Drops:
Short Bow
Drops:
-
Strategy
Docile
The Docile Zombies are non-aggressive and do not need to be attacked. They will generally ignore the player, but if attacked they will draw a sword and attack.
Sword
The Sword Zombies will generally rush the player and attack. Luckily, their attacks are easily avoided or blocked, unless your class starts with a weak shield. The Wuick Barrage attack is the only multi-hit combo and the only treat that this enemy poses. In general, wait for the zombie to attack and take the opportunity to strike between it's attacks.
Archer
The Archer Zombies will stay back and shoot at the player until they come within range. The arrows can be avoided by moving out of the way or blocking with the shield. Advance with your shield up and attack between arrows.
Torch
These are as weak as their friends, but with the addition of fire damage. Avoiding their combo attacks is critical, as they usually attack in groups and can deplete your stamina quickly. Keep focused on them and wait for an opening to attack or backstab them.