The followers of the Darkwraiths harness the power of the Dark Soul found in each human. Led by Darkstalker Kaathe, members of the Darkwraith covenant aim to be the new Dark Lord, to herald the Age of Dark.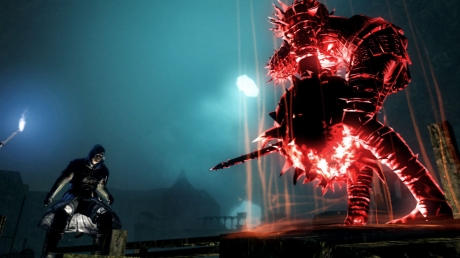 Joining
After obtaining the Lordvessel, do NOT talk to Kingseeker Frampt in Firelink. Instead, head through New Londo Ruins and defeat The Four Kings. Once vanquished, talk to Darkstalker Kaathe in the Abyss to join. Players receive the Dark Hand, which allows the wearer to suck the humanity out of NPCs and other players.
Covenant Effects
Players who join the Darkwraith gain access to the Red Eye Orb, which allows unlimited invasions of other human player worlds as a Black Phantom. Invading and defeating another player nets you with a Humanity and souls.
You can only invade players that are within the 10% limit below you, but can invade members at any level above you.
Ranks
| Level | Humanity | Reward |
| --- | --- | --- |
| +0 | 0 | Dark Hand (1 Humanity per use) |
| +1 | 10 | Red Eye Orb and Dark Hand increase (Up to 3 Humanity per use) |
| +2 | 30 | Dark Sword, Dark Armor Set, and Dark Hand increase (Up to 5 Humanity per use) |
| +3 | 80 | Dark Hand increase (Up to 10 Humanity per use) |
Betrayal Penalties
Betraying or leaving this covenant results in the inability to use the Red Eye Orb or purchase Cracked Red Eyes from Darkstalker Kaathe.