The Chaos Servants follow the Daughter of Chaos and are natives to Blighttown who were infected with the Blightpus. Wishing to help, Quelaan swallowed it all, making her sick in the process. Now, the Chaos Servants help their "Fair Lady" by feeding her humanity to alleviate her pain.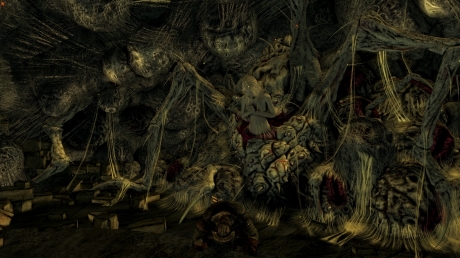 Joining
After defeating Quelaag in her domain, head below the lever for the Bell of Awakening and attack the illusionary wall on the opposite side of the room. Talk to the egg carrier, Eingyi, blocking the path and answer "Yes" to proceed inside and talk to Quelaan. Players receive the Great Chaos Fireball pyromancy for joining.
Covenant Effects
Players who join the Chaos Servant can gain access to the Lost Izalith shortcut, saving the Knight Soliare from death and allowing him to take part in the following boss fights. Additionally, gaining access to Eingyi's shop and buying the Servant Roster will show the online ranking of players contribution to the Fair Lady.
Ranks
Betrayal Penalties
Betraying or leaving this covenant halves the amount of previously offered Humanity.