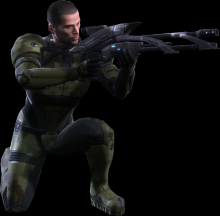 The Infiltrator takes out enemies at a distance using long-range weapons and tech powers.
Powers
·

Disruptor Ammo – deals extra damage to barriers and shields

·

Cryo Ammo – has a chance of snap-freezing enemies

·

Incinerate – deals fire damage and damages armour

·

Tactical Cloak – makes the Infiltrator invisible

·

Sticky Grenade – a grenade that sticks to enemies.

·

Sabotage – controls synthetic enemies.
Multiplayer
·

Human: Sticky Grenade, Tactical Cloak, Cryo Blast, Alliance Training, Fitness
· Salarian: Energy Drain, Tactical Cloak, Proximity Mine, Salarian Operative, Fitness
·

Quarian: Sticky Grenade, Tactical Cloak, Sabotage, Quarian Defender, Fitness
·

Geth: Tactical Cloak, Proximity Mine, Hunter Mode, Networked AI, Advanced Hardware