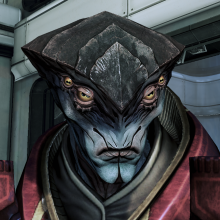 The Protheans were the dominant race of the last cycle, and the species most recently obliterated by the Reapers. They were all but wiped out 50,000 years ago. The Protheans controlled an enormous galactic empire and dominated all other sentient species in the galaxy.
They left behind many artifacts showing high technological advancement, and thus were originally credited with creating the Citadel and the Mass Relays, though it was later revealed that these were creations of the Reapers and long predated even the Protheans.
Javik is the last surviving Prothean, and is one of Commander Shepard's squadmates if the From Ashes DLC is installed.