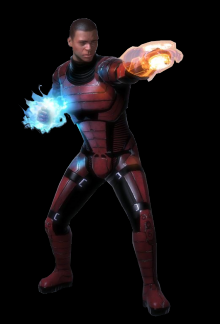 The Sentinel uses both biotic abilities and Tech attacks. It excels at taking out armour and shields, and at staying alive.
Powers
Throw – a projectile that pushes enemies backwards
Warp – an attack that detonates biotic effects and damages armour
Lift Grenade – a grenade that lifts enemies
Tech Armor – reduces damage taken but slows power usage. Can be detonated to deal damage.
Overload – destroys shields and deals damage. More effective on synthetics.
Cryo Blast – snap freezes weaker enemies.

Multiplayer
Human: Throw, Warp, Tech Armor, Alliance Training, Fitness
Turian: Warp, Overload, Tech Armor, Turian Veteran, Fitness
Krogan: Incinerate, Lift Grenade, Tech Armor, Krogan Berserker, Rage
Batarian: Blade Armor, Shockwave, Submission Net, Batarian Enforcer, Fitness