| | |
| --- | --- |
| C | Item |
| | Armax Gauntlets |
| | Old Grid Schematics |
You should know the drill at this point. Take two overloads and a Biotic. There will be plenty of enemies around but just take it slow. You'll come across all sorts of enemies here including the new Nemesis type enemies.
They attack using a Sniper Rifle with a red laser on it so if you so the laser duck or risk being severely damaged. Strip their shields and quickly hit them with a biotic ability to nullify them. If you miss that opportunity, they are very quick and might escape. Make your way to the Canon controls by the left path. In this first building, you will find some Salvage behind a large silver crate. Start killing the enemies here and work your way to the Canon controls. They will keep coming at you so you'll have to fight through and inch forward. Once you get there, go up the ladder to get into the building and go left. In this room, along the left wall will be the Armax Arsenal Gauntlets. Go into the next room and the extra terminal to find the Old Grid Schematics. The other terminal will have the button you need to press to control the canon.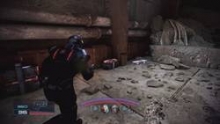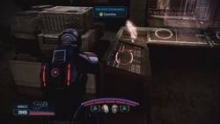 Power to the canon will be cut when you try to activate so now you'll have to make your way back to where you started to fix the power panels. This will be very similar to your first trip except that this is when the Nemesis should show up so take your time and be careful. When you get to the waypoint, you'll have to shoot the locks on the boxes to open them. Open them up and fix both of the power panels, then work your way back to the canon controls. This will be the same trip again except that you may have a little bit of a wake behind you so that you can make some quick early progress. When you make it back to the Canon controls and activate them, the mission will be complete.