| | |
| --- | --- |
| C | Items |
| | Sniper Rifle Scope |
| | Failed Medi-Gel Experiment |
A piece of Reaper Technology will be marked for you. You'll have to go to it and deactive the force field around it, then retrieve it. On the way, you'll have to fight a variety of Cerberus enemies including centurions (shields) and Engineers (shields + Turrets). From the landing site, go up the stairs to the left and just inside turn left. On the ground, tucked away will be a Sniper Rifle mod. A little ways past that will be a Med Station to check. Past the Med Station on the left will be a Journal Entry for XP. Amongst the first set of terminals as you entered the room will be Credits on the right. If you follow that wall past an ammo crate, you'll find more Credits on another computer.
If you go in through the other door on the right, you will find Credits directly across from the doorway. Turn left and if you go down the stairs to the right, you will find a Journal Entry on the landing to the back right. If you continue past those stairs, you will go up a set of stairs and there will be a room on the right. Go inside to get the Medi-Gel Experiment which is part of theCitadel: Alien Medi-Gel Formula mission.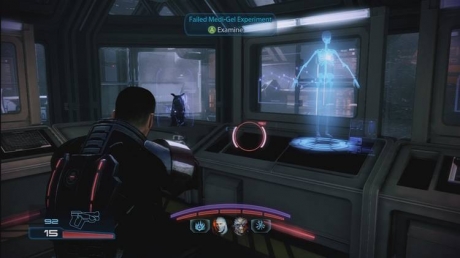 Now for the actual mission. Go inside and fight your way to the first relic. Clear the room and use the computer to low the shield. Take the relic and another group of enemies will attack you. Kill them and make your way back to the landing pad. Drop the relic off with the shuttle.
This time, go up the stairs to the left and in the back left of the building, you will notice a room that's mostly closed off except for two doors right next to each other. Remember this room. Fight your way to the next relic and go through the same process. Immediately run back up to this room and position your squad mates near the doors while you take cover further back in the room by the pillar. You'll have to fight Cerberus until Cortez returns with your ride. Clear out as many Cerberus as you can, then head out to the landing pad. He still won't be here but you'll be ambushed again. Activate the ambush and then retreat to your safe room again. When it seems safer, use the radar on your power wheel to see how busy it is outside. Slowly make your way out, cleaning up any stragglers. Get to the shuttle and leave this place.