| | | | |
| --- | --- | --- | --- |
| C | Item | C | Item |
| | M-300 Claymore | | Krogan Dying Message |
| | Pistol Barrel | | Shotgun Spare Ammo |
| | SMG Barrel | | Ariake Shoulder Guard |
| | Shotgun Shredder Mod | | Pistol Piercing Mod |
Travel to the Ninmah Cluster, Mulla Xul, and to the planet Utukku. A well rounded squad (with at least one biotic) would be good for this mission. Overload will be helpful in a few instances but you will only need one. Drop down to the planet and you'll meet up with a Krogan Squad which may be led by Grunt if he survived ME2. He will be leading the Aralakh Company. Talk to him and then when he departs, check the building to your left for Salvage, the M-300 Claymore and the Pistol High Caliber Barrel. Once you have all of that, head down the hill and check the next building on your left for an SMG High Caliber Barrel and some salvage just outside the building. Talk to the Aralakh leader and then head into the building.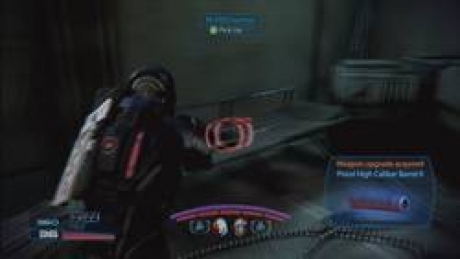 After a nasty happenstance, you will regain control of Shepherd. Move down the tunnels and you will find a dead Krogan on the right side. Next to his body will be the M-451 Firestorm. This is a heavy weapon and you won't be able to keep it. Once it runs out of ammo, it's empty and you'll have to drop it. To drop it, simply change weapons. Carry this with you and use it to destroy the webs blocking your path and the spore pods scattered around. The Spore Pods explode if you get too close to them so make sure you destroy them before you proceed.
The area is a rather linear set of corridors and at the few places where the path splits, it leads back to the same path. You will soon come to a large open room and will be introduced to your first Ravagers. Watch out for the Ravager's rockets and make sure that you destroy the Barrier Engine here (This is why you brought Overload) quickly because a Ravager with shields is bad. Set your squad to attack the Ravager while you keep off the Husks and Cannibals that will swarm you. When the Ravager dies, it will release little bugs called Swarmers. They carry a corrosive material that does damage over time which prevents shields from recharging and does serious damage besides. They'll also leave a puddle of it on the floor when they hit you which will have the same effect on you. From where you dropped down into this room, if you turn left you will find a Shotgun Shredder mod. Move up the hill in the distance.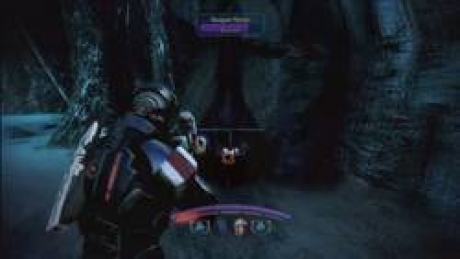 You should find another Firestorm at the base of this hill. Grab it and make your way to the top of the hill. Destroy the pods with your new Firestorm. Not far after the pods will be a web with a barrier on it. If you look to the right, you will find a Reaper Node. Destroy the Reaper Nod to get rid of the barrier and then burn the web like you normally would. You'll find another Firestorm not far from here and then there will be a crash. Continue on down the tunnels and watch for some Reaper Tech behind one of the side webs. Further along, before you come to another large room will be a dead Krogan behind a web. If you check his body, you'll find a message that starts Citadel: Krogan Dying Message. Move a little further ahead and you'll come to another large room similar to the previous one.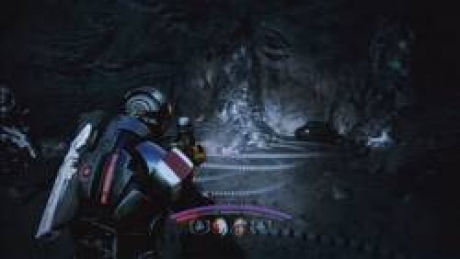 This room actually uses the same strategy as before but just be careful because you are at a height disadvantage. This will cause you more problems in visibility than anything else since the ranged enemies are likely too far away to shoot you. Destroy the Barrier Engine, stop the oncoming Husks, take out the Ravager and clean up the Cannibals. Further on you will be ambushed by another group of similar structure but smaller and closer. They shouldn't pose a real problem though you may want to back up a little to get better cover. Kill them and you should find a small slope just behind them and to the right. On that slope will be another dead Krogan and a Spare Shotgun Ammo mod. Take that and move down the hill.
Jump off and move forward. Destroy the Spore Pods to the left and you should find some Reaper Tech there. Moving forward, you should eventually find another Firestorm on the left. Go over a bridge and then jump over a small gap. In this new room, you'll find more Pods. Destroy them and find the ramp at the back right. Go up this ramp and at the point where you have to start climbing upward, you'll find the Ariake Technologies Shoulder Guard. Destroy more pods and jump across another gap.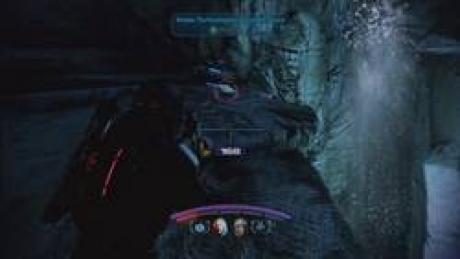 Now go down a ramp and you'll see the Aralakh squad in the distance off to the right. Burn through some webs and you'll find a dead Krogan. Near the Krogan should be a med kit, a new Firestorm, and the Pistol Piercing mod. There will be a Reaper Node nearby. Destroy that and you will regroup with Aralakh Company. After a short talk, they'll stay behind to protect your back. Go through the door near the dead Krogan and destroy the pods to the right to find more Reaper Tech. There will be a crawl space so start crawling. On the other side, run forward to the dead end and look up. You'll find another Reaper Node up above you. Destroy it.
This will trigger an attack from your left flank. The barriers will lower and you will be attacked by a group with two Ravagers, a good amount of Husks and some Cannibals. I would back up and use the cover on the left but be careful for the frequent grenades. Again, have your squad focus on one of the Ravagers and do everything you can to slow down the advancing Husks. Keep laying singularities to slow them down. This fight will be a little messy so don't hesitate to use some Medi-gel if your squad mates go down or if you need it. Once you've dealt with most of the Husks, use biotics to hinder the Cannibals so they stop using grenades on you. Hopefully your squad will have killed one or both of the Ravagers by this point and can help with the cleanup. When you are down, move past the dead enemies and you will find another Reaper Node to destroy which will start another wave.
This fight is more of the same as the last one except that you have more distance and a little bit of height. Otherwise, use the same tactics as before but watch out for the Swarmers that might sneak up on you. The toughest part of this fight is going to be finding good cover but back up and there will be a large section of rock that will allow you to fight off of both sides. Once this group is clear, move to central bridge for another similar fight. Again, your biggest battle is going to be finding cover. Don't hesitate to move backwards because the enemies will slowly come towards you and around the corner to fight. This will allow you to control the pace of the fight better. After they are dead, go past them, destroy another Node and fight one more group. This group is pretty simple compared to the others but just watch out because you have even less good cover here. I would try to stick to the right if it's possible since it seems to be the cover that gives you the most distance. Once everything is dead, head back to the bridge and go straight up the middle to find a (potentially) old friend.
Spoiler:
If Grunt was loyal to you in Mass Effect 2, he will survive should you choose to save the Queen. Since I found the difficult decision to be whether I was up for genocide to save Grunt, it might be comforting to know that you can save both in the right circumstances.