Dialogue from earlier games will have shaped your experience of Mass Effect 3 to a great extent, and dialogue within Mass Effect 3 will shape the progress of the story.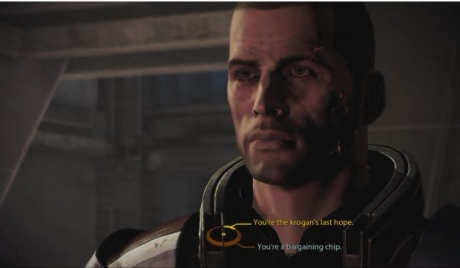 Your options are chosen from a dialogue wheel. The options on the left will prolong the conversation or extract more information. Those on the right will bring the conversation towards a conclusion. The top-right choice will be Paragon (helpful, friendly, conciliatory or sympathetic), and the bottom-right choice will be Renegade (angry, hostile or proposing violence). The centre-right choice, if it is present, is somewhere between these.
Sometimes, the top-left choice will be blue, and the bottom-left will be red. The blue is a Charm, and the red is an Intimidate. Provided your Paragon or Renegade score is high enough, respectively, Charm and Intimidate can persuade other characters to help you even though they ordinarily would not have done so.
The words shown on the dialogue wheel are a summary of what Shepard will say, rather than an exact transcript, but the meaning is kept.