| | |
| --- | --- |
| C | Item |
| | Reaper Code Fragment |
You will have to complete this mission alone (despite taking allies with you). Follow the path through here and use the gun to destroy the Orange colored blocks so that you can pass. The gun will recharge if you don't use it. Follow the path to the end and enter the blue lighted circle. When you come out the other side, continue doing as you were doing until you come to a room with a large round block of blocks and Legion/Geth VI mentions an infected code. On the left side of the path, you should see a normal dark string which is shooting little orange boxes out of it. Inspect this for the Reaper Code Fragment.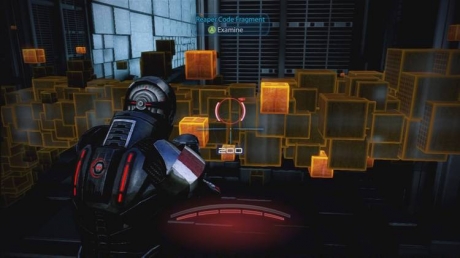 After you have that, start working on where the strands connect to the large structure in the middle. Get rid of these strands and a scene will unfold. Make your way past the next two Data Clusters (and scenes) to find another blue circle. Step into it to come to another section. The Infected Streams now repair themselves and you will have to destroy nearby other streams first before destroying the primary streams that block your path. Make your way to another Data Cluster. The main streams here may require you to destroy more than one auxiliary stream before you can destroy them.
Once you witness this scene, go around the large cluster nearby to an infected cluster beyond. Clean that Cluster up, watch that scene and then return to the last Data Cluster here. Enter the blue circle and then in the next room, run back to your pod to exit.