CItem
Pistol Magazine
Heating Unit Schematics
Two overloads and a biotic. Immediately take cover and begin killing enemies on the balcony above. Watch for enemies coming up the ramp on your left. When the area is clear, make your way inside, go down the stairs and activate the nearby computer. On a bench near the computer will be a Pistol Magazine Mod. From the computer go down the stairs again. The room of the bottom there will be many Cerberus troops but most will not have shields. Clear the room and enter. On the terminal just your right will be some salvage. On the computer in the back corner will be a datapad and on the wall above that will be Heating Unit Schematics. From the datapad, turn right and access the control center.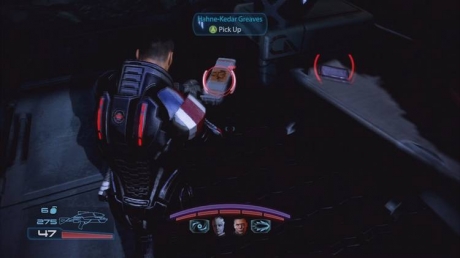 At this point you'll be attacked by more Cerberus troops. There will be roughly eight that will attack from any door. Kill them as they enter the room. When they are dead activate the other command center console. Some Cerberus troops will set up defenses on the landing pad above. Head back up to the landing pad by the path you came. Watch out for turrets. Once you clear out the enemies on the landing pad, Cerberus will drop an Atlas Mech. Once you kill the Mech the mission will end.