Hell Shrines are the collectible you must find in the Nightmare in North Point DLC. They are similar to the Health Shrines in the main game in size and appearance, although they emanate a bright blue flame. There are only 10 to be found in the DLC and as you find them, you get a higher chance of setting enemies on fire when your Face meter is full.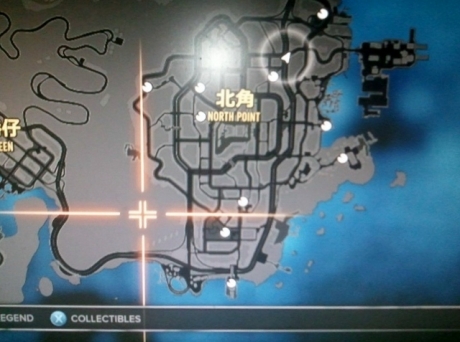 #1) Start out at your apartment in North Point. As soon as you step outside of your apartment, it's right to your right.
#2) Go north to the entrance to Club Bam Bam. Facing the entrance, go to your right to find another shrine not too far from it.
#3) Go directly west from Club Bam Bam to the intersection on your map, on the outer road of North Point. There is a parking garage here and you'll find the shrine to the right of it, when facing it.
#4) Go to the northeast corner of North Point, where there looks to be a big open area just northwest of the dockyards. Find the bus terminal and the pedestrian bridge nearby; the shrine is across the street from the stairs going to the bridge.
#5) Go to where Kam Chuk Overpass is on your map. The Hell Shrine is to the southeast, next to a building, in the black triangle area on the map.
#6) Just south of the Waterfront on your map is a small open area. The Hell Shrine is next to a very small boat by the water's edge, before going onto the dock there.
#7) Go to the warehouse used for the Revenge X2 mission, where you go after Dogeyes again. Just south (map-wise) of the stairs that lead to the entrance is the Hell Shrine in front of a building.
#8) A little northeast of Yau Ling Park is a small clearing with a fenced-in area. The Hell Shrine is inside this fenced area (go through the gate).
#9) This one is located next to the building inside Yau Ling Park, next to the building.
#10) The last one is located directly south of Yau Ling Courts on the map. Find the building with the clock on top of it, which is on the land sticking out into the waters. The shrine is on the north side of the building, in front of it.