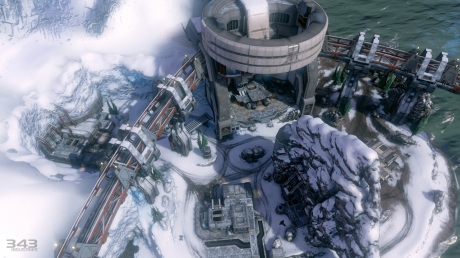 Located in the northern polar region of the planet Concord, the frigid climate and unique gravitational conditions provide an optimal perch for Longbow Station's channel-based mass drivers. Before the Covenant War, the UEG launched deep space monitoring relays from here in an effort to study far-flung star systems.
Longbow is a mid to long range map with warthogs, mongoose, and ghosts available. The map is playable both on foot and in vehicles. It has been designed to look like part of the UNSC war machine. Originally, it had been designed to have a fire and ice theme with one side being ice and the other being fire. That concept was ditched for a glacial look.
This map is one of the largest in Halo 4 and players will almost certainly benefit from the use of the Light Rifle. There's also common vehicular combat so a Plasma Pistol would be much more beneficial than trying to use a Magnum at long range. Active Camo really shines on these larger maps because there's plenty of room to ambush someone without tipping them off with the radar scrambling. This is also true for trying to board vehicles.