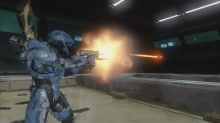 | | |
| --- | --- |
| Clip Size | 1 |
| Shield Drain | Instant Kill to 2 shots |
| Health Drain | Instant Kill to 1 shot |
| Unlock Cost | N/A |
The Sticky Detonator is a new weapon and the finer points are unknown. We do know that it can only shoot one sticky bomb at a time and then detonate it at will. It does not use Plasma Grenades (as it is a human weapon) but some form of human sticky grenade, possibly similar to Semtex. It does also appear to have a limited number of spare shots (possibly as few as three shots total).
Aside from this, we don't know much about it. Until the release of the game, we are unsure how long the grenade lasts, if it lasts after the player who shot it dies, or if it has a maximum range for the detonator.