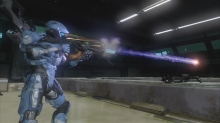 | | |
| --- | --- |
| Clip Size | 5 rounds |
| Shield Drain | 2 rounds |
| Health Drain | 1 round1 |
| Unlock Cost | N/A |
The Concussion Rifle is a small explosive device. It is capable of killing quickly with just a few shots but it also will make your opponent bounce around a bit. This can make it exceptionally difficult for them to return fire so even if your shots aren't direct hits, you can make them a much easier kill for you or someone else since they will be bouncing around so much.
The weapon isn't really powerful enough to do significant damage to larger vehicles like the Wraith and Scorpion but against smaller vehicles that are prone to rolling, it can be used to great effect. It is unlikely to destroy the vehicle but you will likely disorient the gunner if not roll the vehicle and dislodge the occupents. If you do this at the right spots, this can leave them in the middle of a wide open field scrambling to right their vehicle. They can then be cleaned up easily by any allies in the area.