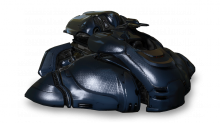 The Wraith is a common sight in both the campaign and in multiplayer. It has a large cannon that shoots slow moving plasma projectiles over long distances and a small one man turret on the front. The turret has limited range and can't fire backwards but is still an effective deterent for enemies trying to board from the front. The main gun is controlled by the driver.
The closest thing to the Wraith would be the Scorpion tank. They are both rather durable and have large main guns but in a direct match up, the Scorpion usually has the advantage. The Scorpion simply has to line up the shoot and pull the trigger to get a hit because the shells it fires are much faster than those of the Wraith. At a medium distance, the Scorpion is generally capable of hitting a Wraith while still avoiding the returned shots. However, when there is no line of sight (such as over a hill), the Wraith can sit in safety and continuously fire until their enemies are dead.
This means that the Wraith is better as a support vehicle than as a domination vehicle like the Scorpion is. This is doubly true now since most Infinity Slayer matches default to no friendly fire, allowing the Wraith to sit comfortably at the back rather than moving up to ensure accuracy (and reduce collateral).