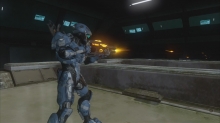 | | |
| --- | --- |
| Clip Size | 48 rounds |
| Shield Drain | 12 rounds |
| Health Drain | 8 rounds |
| Unlock Cost | 2 SP |
The Z-130 Suppressor is a rapid fire weapon. It generates and propels Hardlight projectiles as ammunition. It is described as a very useful weapon for the Forerunners when fighting against the Flood which suggests that it might function as a Hardlight version of the Assault Rifle.
In fact, it is very similar to the Assault Rifle. It doesn't hit quite as hard as the Assault Rifle, requiring roughly 20 rounds total to kill someone (as opposed to 16 from the Assault Rifle). In exchange, it first much faster at roughly the speed of the SAW. It can be slightly more deadly at close range but at longer ranges, the recoil makes it far less accurate at full auto.