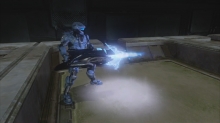 Clip Size

Detached: ~200 rounds

Mounted: about 14 seconds of continuous fire.

Shield Drain
7 rounds
Health Drain
5 rounds
Unlock Cost
N/A
The Mounted Plasma Cannon can be found in a number of the larger maps and when mounted can be fired for up to 14 seconds continuously before overheating. After that, it takes roughly one second for it to cool down again before firing. Against infantry, it can be used to mow down large groups of exposed Spartans with ease. However, even a simple flanking maneuver will leave you terribly exposed and likely dead.
Once detached, you are left with about 200 rounds of ammo. This is still a lot of ammo and you won't be able to overheat any more. You will travel much slower than normal but you will be able to move. Remember that this means you can still use cover as you need to. Sometimes, the best method is to climb to the top of a hill, shoot, and then retreat a few steps so you are protected by the hill. This works even better with rocks though sometimes getting onto them/back onto them can be tricky with the turret.
This weapon is almost identical to the human Mounter Turret except that the shots travel a little bit slower. You should still take it as a very serious threat because in most situations, you won't have time to notice the difference.