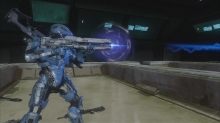 | | |
| --- | --- |
| Clip Size | 1 (6 rounds total) |
| Shield Drain | Instant Kill or 1 shot |
| Health Drain | Instant Kill or 1 shot |
| Unlock Cost | N/A |
The Rail Gun is a new gun to the Halo franchise and it is similar to the larger MAC guns. It uses magnets to propel an irradiated canister at an enemy. The canister itself is not explosive but the force of the canister hitting a surface creates a large impact force similar to an explosion. For this reason, it does splash damage similar to a rocket.
The weapon is an instant kill weapon if you hit your target directly however if the canister lands near your target, it should still deal enough damage to drain shields. The canister itself travels relatively fast but there is definitely a delay at longer ranges and should be taken into account. When firing, you need to hold the trigger to charge the weapon similarly to the Spartan Laser.
In a lot of ways, it is a faster version of the Spartan Laser. It has a much faster charge time but it is weaker and the travel time of the canister makes it difficult to handle over long ranges. For this reason, it is much better at close to medium ranges against infantry and light vehicles where it will frequently flip over the vehicle if not destroy it entirely.