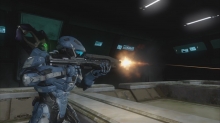 | | |
| --- | --- |
| Clip Size | 32 |
| Shield Drain | 10 shots |
| Health Drain | 6 shots |
| Unlock Cost | N/A |
The Assualt Rifle is a fully automatic rifle with a 32 round clip. Compared to most other weapons, it has an exceptionally large carry size of additional ammo, allowing for a stash of up to 288 rounds which is roughly 10 full clips of ammo (including the loaded clip) where as other weapons usually only allow for 3-5 full clips of ammo.
The Assault Rifle is very versatile weapon depending on how it's used. At extremely close ranges, it can deal large amounts of damage, particularly to shields. This extra damage to shields makes the Assault Rifle possibly the best non-power weapon in close-quarters. When you pair that with it's moderate power at long ranges when fired in controlled bursts, the Assault Rifle becomes a very deadly weapon in almost any circumstances.
Tips:
At close range, it has more power and requires less accuracy than precision weapons. For this reason, it's useful to move and jump frequently at close range when using this weapon.
While the Assault Rifle is still very effective at long range when shot in bursts, a Battle Rifle or DMR is far more accurate. For this reason, it should only be used at long ranges for surprise attacks or when you have some other advantage.
Since the Assault Rifle isn't the best in any category even when it excels in most, its usefulness diminishes rapidly when paired with weapons like the DMR and BR. For this reason, there's usually very little reason to hold on to it if almost any other weapon presents itself. Even a Storm Rifle, with its limited ammo supply, is likely a better choice because it does more damage to shields which is critical just before a melee attack.
It takes 10 shots to drop shields and 16 shots to kill someone which is a half clip of ammo