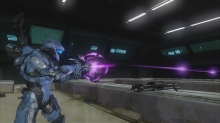 | | |
| --- | --- |
| Clip Size | 22 shots |
| Shield Drain | 6 shots |
| Health Drain | 2 shots (8 shots total is instant kill) |
| Unlock Cost | N/A |
The Needler has been a common weapon in the Halo franchise. It has always fired some form of homing energy crystal at enemies at rapid fire. When a large number of these crystals are in close proximity to each other, they cause an explosion that is usually deadly. It also has the distinction of being the only weapon that has absolutely no effect on vehicles. Because of the smooth armor plating, it tends to bounce right off.
In Halo 4, the Needler has seen a decent improvement in damage. It requires only eight shots total to result in a super combine explosion which is equal in intensity to the power of a shot from the Incinerator Cannon. The homing ability remains at up to medium range. It has a fire rate similar to the assault rifle but it kills in fewer shots and has the homing ability.
The downside is that the needles takes a bit of time to reach their destination and during this time, your enemy may break the lock from the needler. While it remains undeniably effective, you are required to lead your target, even at close to medium range. The times when it truly excels however are when the enemy is unaware or your presence or when they are sporting an overshield (A Super Combine can remove up to three layers of shielding).
The Needler is easily a power weapon if used correctly but keep in mind that it's usefulness diminishes rapidly as people become aware of its presence.