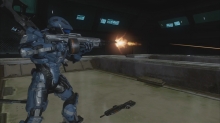 | | |
| --- | --- |
| Clip Size | 100 Rounds |
| Shield Drain | 10 Shots |
| Health Drain | 6 Shots |
| Unlock Cost | N/A |
The SAW is a high powered full Machine gun. It carries about 100 rounds loaded at a time. While its damage per shot is roughly equivelant to the Assault Rifle, the rate of fire is the highest in the game. When you consider the versatility of the Assault Rifle and its effectiveness even at long range, it is possibly the most powerful weapon after those with instant kill abilities.
The SAW is not a weapon that can be added to a loadout but is a common weapon for ordnance. It does also appear in random weapon drops and on some maps as a starting spawn.