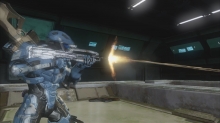 | | |
| --- | --- |
| Clip Size | 36 rounds/12 shots |
| Shield Drain | 12 rounds/4 shots |
| Health Drain | 9 rounds/3 shots |
| Unlock Cost | 1 SP |
The Human Battle Rifle carries a 36 shot clip and fire three shot bursts. It can shoot at a relatively fast rate but because of the three shot burst, it has a lower firing limit that can not be decreased. This means that it fires slightly slower than the Designated Marksman Rifle and the Magnum.
The Battle Rifle truly shines against unshielded foes. Because of it's triple shot burst, a single pull of the trigger in the vacinity of the head of an unshielded foe (particularly just below the neck where the weapon can kick up to the head during the burst) will generally result in death. Not only does the burst shot shoot three precise bullets faster than the other precision weapons (though has a longer time before the next shot), it is the best weapon for cleaning up enemies at range. As a side benefit to the triple shot burst, it is also possible to get multiple precision kills with a single burst shot if the targets are lined up appropriately.
At longer ranges, it's accuracy starts to dip because of bullet spread. In these scenarios, it is much preferred to use the DMR or Sniper Rifle instead. At closer ranges, the weapon is still incredibly effective for finishing enemies but lacks the power and speed of the Magnum against shielded foes.
It has been noted during an interview with GameSpot during Comic-con that it is possible to get a kill with less than five shots. Indirectly, the Battle Rifle seems to have been confirmed to only require four shots to kill though we're not sure if it requires 11 or all 12 of the rounds to connect for this to happen.