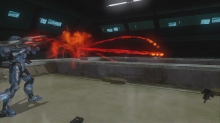 | | |
| --- | --- |
| Clip Size | 1 round, 3 total |
| Shield Drain | 1 round or Instant Kill |
| Health Drain | 1 round or Instant Kill |
| Unlock Cost | N/A |
The Incineration Cannon is a powerful weapon capable of shooting multiple small explosive particles at once which explode into smaller particles, explode on contact, and can catch fire.
This weapon is the most powerful weapon in the game that can be carried by a player. A single shot has almost as much power as a rocket when it hits the ground and it releases four bomblets that carry just as much power. A direct hit always kills and coming anywhere close is almost a guaranteed kill. The only difficulty is that if you don't hit the target directly, it is possible that the bomblets will miss the target and you won't get a kill for it. While this weapon is exceptionally powerful, it's not as good as rockets against fast moving targets.
For this reason, it's much more useful against large targets like Wraiths and Scoprions rather than infantry or small vehicles.