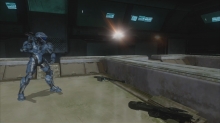 | | |
| --- | --- |
| Clip Size | 2 |
| Shield Drain | varies |
| Health Drain | varies |
| Unlock Cost | 2 SP |
The Pulse Grenade is a grenade that causes heavy damage to shields while still dealing some damage to health. Because of it's strong pulse, it's also capable of disabling vehicles that get caught in its blast radius.
When the grenade hits the ground, it is the fastest to activate and can easily catch an enemy off guard. Since it activates so quickly and deals damage over time, it is usually best used to give you direct damage edge over your opponent. In essence, it works great filling the roll that the frag grenade filled in earlier Halo games. Throwing it at your opponent will almost instantly grant you an edge in damage that can make all the difference in an otherwise even firefight.
The grenade is generally not deadly unless the target remains stationary when used so it is best to use it to give you that little bit of extra damage rather than hoping to get a kill with it.