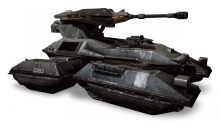 The Scorpion Tank is a dominant vehicle in any match. While it is slightly less maneuverable compared to the Wraith and can have trouble with hills, on a flat surface it is unmatched. The fast moving projectiles can destroy most minor vehicles in a single shot and can easily remove air vehicles such as the Banshee from the skies.
When put into a head to head match with a Wraith, the Scorpion usually has the advantage. Since the Scorpion's shot travels so much faster, it can fire and forget most of the time. This allows the Scorpion to focus on evading rather than shooting while a Wraith pilot will have to force their opponent into a position where it is difficult for them to move before they can be sure of a hit.
This is important to keep in mind. A skilled Scorpion pilot can dominate a match quite easily since they are adept at avoiding such situations. In these cases, it is best for enemies to hang back and try to remain unseen so that they don't have to fear the reprisal of the Scorpion.