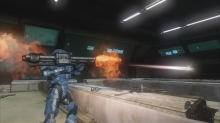 | | |
| --- | --- |
| Clip Size | 2, 6 rockets total |
| Shield Drain | instant kill |
| Health Drain | instant kill |
| Unlock Cost | N/A |
The SPNKr Rocket Launcher is a simple, double tube RPG. It is capable of having two rounds loaded at a time though there is a slight pause between shots as the tubes rotate for the second shot to be fired. In some instances, the Rocket Launcher has been capable of vehicular lock-ons though that has not been confirmed for Halo 4.
the Rocket Launcher is one of the more powerful weapons in the game. In most combat situations, it is the best weapon to have at close to medium range. It doesn't require as much accuracy as the Sniper Rifle and can kill multiple targets far more easily with its explosion while shooting far more quickly than the Spartan Laser and dealing more damage than the Fuel Rod Cannon. In fact, its usually far more reliable to shoot at the targets feet and force an explosion than to try and hit the enemy directly.
Unfortunately, the exact power of the weapon has not yet been determined in Halo 4 though it is far more likely that the other weapons mentioned will be modified around the Rocket Launcher rather than the Rocket Launcher itself being modified. For instance, the power of the Sniper Rifle may be adjusted to be more or less powerful against vehicles than the Rocket Launcher.