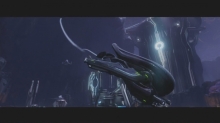 The banshee is a one man Covenant space and atmosphere fighter. While it seems to operate with the same principles as the ghost, it is closer to some human jets. It is capable of forward motion, can yaw left or right and execute acrobatic maneuvers. While it is capable of slowing drastically and still staying airborne, slowing too much will cause the Banshee to start dropping and coming to a near halt will cause the Banshee to plummet. It must maintain some form of forward momentum to stay airborne.
Usually, the banshee comes equiped with a couple of plasma cannons and a Heavy Fuel Rod Cannon. It is not uncommon for the Fuel Rod Cannon to be deactivated in some online competitive matches even if it is present in the campaign. It also comes equipped with a booster in almost all instances which it can use indefinitely but drastically reduces it's maneuverability. It does use these boosters in short bursts to execute aerial stunts like flips and rolls.
A Banshee on the field of combat can be very deadly but if it is not properly supported on the ground, the lack of pressure will allow for a quick concerted effort by most enemy ground forces regardless of where they are. While the Banshee is usually rather resilient to most small arms fire, the concerted effort of a group of infantry can take a banshee down rather quickly. Similarly, if ground support is incapable of using a Banshee to its tactical advantage to secure heavy weapons, a single infantry can slip away and take out the Banshee.