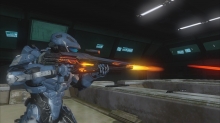 | | |
| --- | --- |
| Clip Size | 12 shots |
| Shield Drain | 3 to 5 shots |
| Health Drain | 2 to 3 shots |
| Unlock Cost | 2 SP |
The Light Rifle is one of the more unique weapons in the Halo 4 arsenal. It is very similar to the Battle Rifle. It is also versy similar to the DMR. The reason for this is because it has two fire modes. When fired from the hip, it will shoot a three round burst but when you use the scope, it becomes a single shot precision weapon.
The most interesting quality of the weapon, however, is that when it changes firing modes, it also changes damage output. When zoomed, it is more powerful than the DMR, Battle Rifle, or Carbine. It is capable of dropping the shields of an enemy in only three shots. However, firing from the hip actually makes it the least damaging of the four weapons, requiring five shots to drop shields. Interestingly, if the fifth shot is a headshot, it will kill the enemy meaning it is still capable of keeping up with the other weapons if only barely.
The problem is that even if you get a headshot, it still fires a little bit slower than the other weapons so even with perfect precision, unscoped the weapon is inferior to the other weapons. If your enemy is returning fire, forcing you to leave your zoom then you are at a large disadvantage.
At first glance, it may make this weapon seem like something of a gamble but this isn't true. Depending on the type of map and game, it is easy to tell if you should use the weapon or if you shouldn't use it. On any smaller map, particularly in a slayer type game, this weapon is at a disadvantage and it would be much better to go with the DMR or BR.
However, if you are playing a large map in some form of BTB then this weapon is an easy choice. It is the most accurate of this category of weapon and its power is unrivaled. When you pair this with the fact that at worst, five shots to the body will kill, it is easily the most viable weapon at the longest ranges where it may be next to impossible to hit their head.