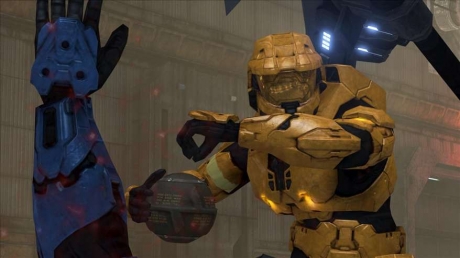 Grifball, originally developed by the people at RoosterTeeth during Halo 3 has been turned into an official gametype by 343 Industries. While the gametype was celebrated in Halo 3 and even supported in Halo: Reach, this is the first time that the developers have actually worked on the game type in the same way that Infection became an officially supported gametype.
What this means is that there has been special modifications created specifically with Grifball in mind. Rather than using a bomb as was traditional to keep track of scoring, a special energy ball has been created which may make it easier to track the ball carrier. They have also revamped the scoring system so that scoring is more smooth (rather than the quick, jarring explosion) and results in the ball being returned to the center of the arena for continued play. Rather than each score resulting in a new round, the game will flow more continuously.
There have been some other additions to game that should enhance the game. The ball can now be passed from player to player and is still capable of being effected by the Gravity Hammer allowing for long range passes rather than having to launch a player with the ball.
Lastly, if the ball carrier is killed by a Sword Lunge then the ball is automatically transfered to the killing player instead of being dropped on the floor.