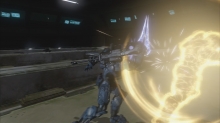 | | |
| --- | --- |
| Clip Size | 10 total uses |
| Shield Drain | Instant Kill |
| Health Drain | Instant Kill |
| Unlock Cost | N/A |
The Energy Sword is capable of getting a one hit kill with it's lunging attack and has the longest lethal range of close range weapons. It can kill from beyong the shotgun range and it's rapid movement during the lunge makes the user a hard target to hit if there are multiple enemies in close proximity.
The Sword has also developed a mechanic that allows it to "clash" with other swords. If two enemies try to swing or lunge at each other at roughly the same time, they will collide, bounce back a little, and do a measure of damage to each other. While it takes health, it is not possible to die from a clash so it is required for one player to score a decisive hit against their opponent to win a duel. However, this mechanic has not yet been confirmed for Halo 4 and recently saw some changed in Halo: Reach
Usually, the shotgun has damage priority over melee weapons like the Energy Sword and Gravity Hammer. In other words, if a player with a melee weapon and a player with the shotgun attack at the same time and are both close enough to kill the other instantly, the Shotgun's damage takes precedence (because it is assumed that the shells travel faster than a Sword Lunge). This leaves an unusual rock paper scissors mechanic between the Shotgun, Energy Sword, and Gravity Hammer.
The Energy Sword has the lowest priority but the highest range so an experienced player would win against a shotgun. The Sword can lunge from just outside the Shotgun's maximum lethal range so by waiting for the enemy to shoot prematurely, the sword can lunge in for the kill between shots. This makes it crucial in this situation to try and draw the enemy in closer and then take a quick step forward so that he's within the lethal range of the shotgun. The Shotgun has a much longer lethal range than the Gravity Hammer and a higher priority so if an enemy with a hammer tries to swing at the shotgun, they merely need fire to win. The Gravity Hammer will bounce a sword enemy back if they are not lunging (putting them too far away to lunge) or outright kill them (has higher priority) if they are lunging.
There has also been the addition of a ball scoop when playing oddball style games. When a ball carrier is killed by a Sword Lunge, the player with the sword will automatically take posession of the ball rather than having it fall on the floor. While this may not happen in all gametypes, this has been confirmed for Grifball.