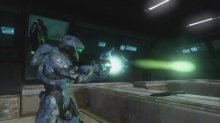 Clip Size

up to 50 shots or five overcharges total.

One overcharge or 12 rapid shots before overheat

Shield Drain
4 shots or one overcharge
Health Drain
8 shots or three overcharges
Unlock Cost
2 SP
The Plasma Pistol has returned to Halo and it remains relatively unchanged since Halo 3 and Reach. The weapon is slightly more effective now but uses more energy. The individual shot of the weapon can drain a shield in four shots and kill in 8 more. This is compared to Halo: Reach where the weapon would need 11 shots after shields were drained to kill. It is also useful in melee combat where three quick shots will leave the enemy with enough damage that a melee attack can kill them. As per the long standing tradition, the charge shots are capable of minor tracking and can either completely drain shields or stun vehicles for a short period.
As a trade off, the charge shot drains far more ammo. The amount of ammo drained from the shot itself is around 20% as opposed to roughly 10-11% in previous games. Ammo also drains very rapidly once it reaches its charged state. Whereas previously it lost roughly 1% of its power per second, the new Plasma Pistol can lose as much as 7-8% in a single second. For this reason, it is possible to get as many as five charged shots out of a Plasma Pistol if you release the trigger almost as soon as it is charged but in real combat situations, you'll likely only get 3, sometimes 4 if you are lucky.
While the Plasma Pistol has had the ability to kill in every Halo except for Halo 2, it has always been considered sub-par in this regard, sometimes taking as many as 30 shots to kill. In Halo 4, the gun fires very rapidly and can kill before overheating. However, if fired too rapidly, it will overheat after 12 shots which would be the kill shot if ever shot hit. For this reason, it is actually practical for use in combat situations but it is still best used as a support weapon.