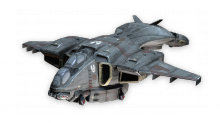 The Pelican is a multifaceted human air vehicle. It packs exceptionally powerful thrusters that allow it to function both in space and atmosphere while carrying heavy payloads. Pelicans can carry a full squad of troops as well as a medium sized vehicle such as a warthog.
Sometimes Pelicans will forgo their normal troops and vehicle payloads for heavy armaments. They are capable of carrying large amounts of rockets and compliment it with a quickly recharging Spartan Laser. There are compartments towards the nose of the craft that can carry infantry weapons for the troops onboard. While it is capable of carrying very powerful weapons, it doesn't have quite the heavy armor that a Phantom does and can't carry quite as many troops. It makes the Pelican much better for quick troop insertions rather than large scale invasions.
The Pelican is only ever flown during the campaign mission Shutdown.