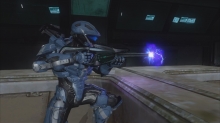 | | |
| --- | --- |
| Clip Size | ~200 shots total, 30-32 rapid fire before overheat |
| Shield Drain | 9 shots |
| Health Drain | 6 shots |
| Unlock Cost | 2 SP |
The Storm Rifle is a redesign of the old Covenant Plasma Rifle. It functions much the same way - there is no reload mechanism, it fires rapidly and can overheat if used for too long.
When compared to the Assault Rifle, it appears to have a slight edge in damage. Since it does a little bit more damage to shields, it will give the user a slight edge in a melee match up against someone using an Assault Rifle. It also kills in one fewer shot and since it doesn't need to be reloaded, it can fire for longer if burst fired.
There are some downsides however. The first is that while you can essentially never have to reload the weapon if your burst fire, doing so isn't particularly helpful since it is still relatively innaccurate at long ranges. On top of this, the projectiles move much more slowly than the Assault Rifle bullets meaning you have to lead your target and they still have an opportunity to dodge. What all of this boils down to is that on smaller maps, the Storm Rifle will have a slight advantage because of its minor increase in damage but in almost all other situations, it is inferior to the Assault Rifle.